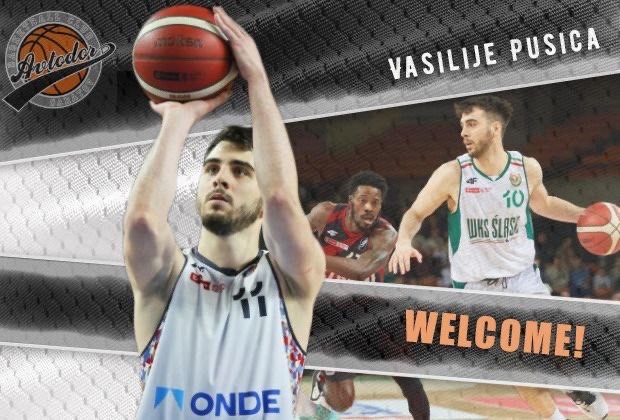 Attacking guard Vasily "Vasa" Pusica (196 cm, 93 kg) became a new player of the Avtodor basketball club. The contract with the 28-year-old Serb was signed for one and a half months with an option to extend until the end of the 2023/24 season. The Black and White newcomer is capable of playing in positions from number one to number three and has experience of playing in the championships of Serbia, Italy, Lithuania, Turkey and Poland.
Vasile Pusica is a graduate of the American University of Northeastern, in his final season in the NCAA (2018-19), he scored 17.9 points (42.7% from three-pointers), made 5.1 assists and 3.6 rebounds per game. Vasa finished the season already in Partizan Belgrade.
Pusica spent two years in the Italian Championship, where he played for Pesaro and Sassari. The 2021/22 season began in the Lithuanian Prienai, and ended in Galatasaray from Turkey.
Vasa spent the last season 2022/23 in the Polish Championship. His outstanding performances for Torun (16.9 points (43.2% - three-pointers), 3.0 rebounds, 4.3 assists and 1.4 steals on average per game) did not go unnoticed, and in February 2023 Puszyca strengthened the local giant and ULEB Eurocup participant - Šląsk (Wroclaw). With Slask, the Serb won silver medals in the Polish championship (6.6 points, 1.9 assists, 1.2 rebounds), and in Eurocup matches he averaged 11.3 points, 3.0 rebounds and 1.3 assists per game.
Milenko BOGICHEVICH, Avtodor head coach:
"Vasile Pušica is a very good and high-quality player. He knows basketball. An experienced player who has played in a couple of the top European leagues, playing an important role in his teams. He can shoot from distance, create offensive chances for himself and others, provide assists and generally make the players around him better. Quite strong in defense due to his size.
Pushitsa will help our team with his basketball knowledge and experience. Of course, it will take him some time to adapt to our system. But, as I said, he has a lot of experience and he is a smart guy, so I think the adaptation phase will be short. Vasily is a representative of the ex-Yugoslav school, so he has a serious basketball base."