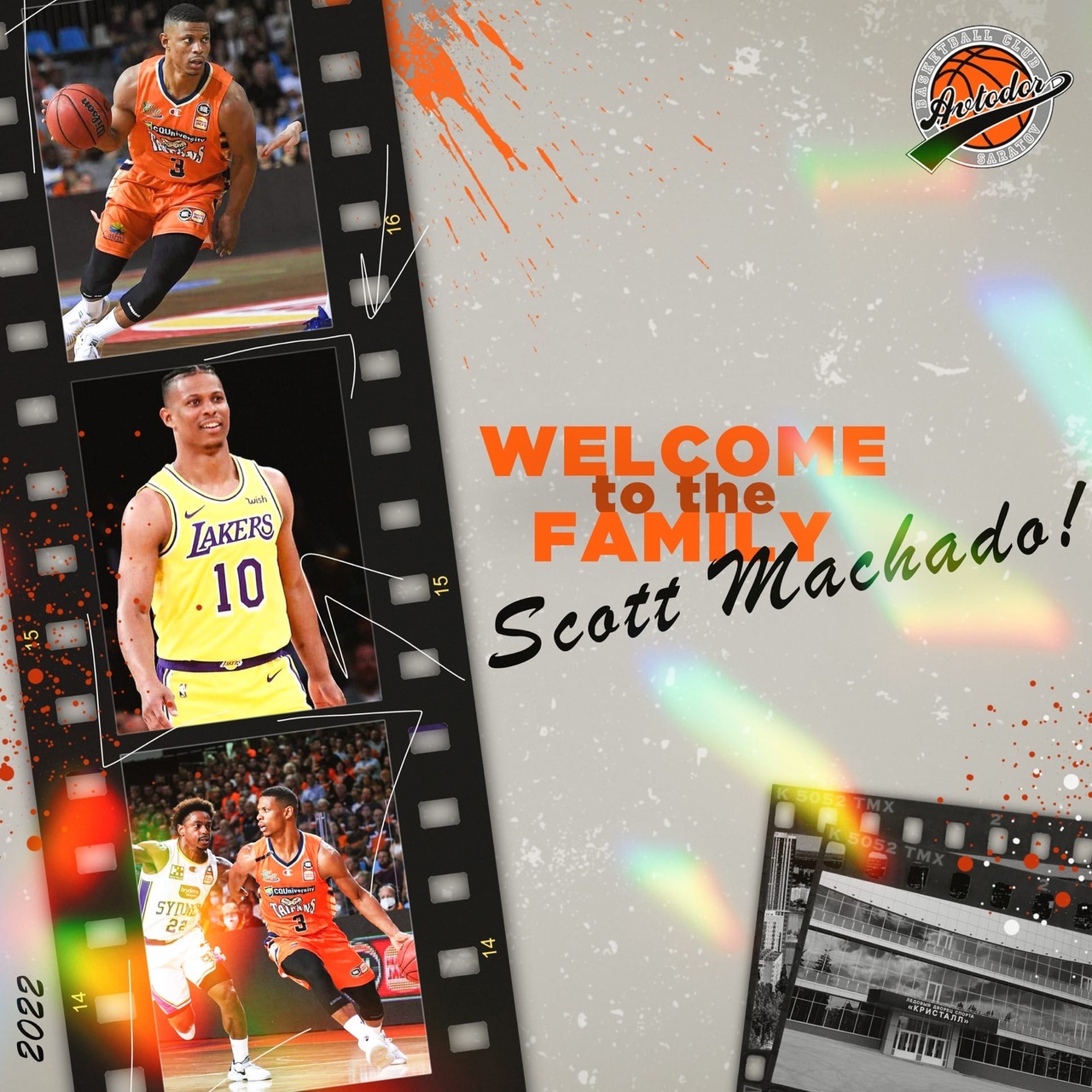 The 32-year-old guard of the Brazilian national team Scott MACHADO (187 cm, 91 kg), who has experience playing in the NBA, VTB United League and Eurocup, will become a player of the BC Avtodor.
Machado is a "clean" point guard who is primarily focused on organizing an offense and seeks to actively involve his teammates. He reads the game well, has an excellent vision of the playing court and knows well how to give a timely pass.
Over the past 3 years, Avtodor's newcomer has played for Cairns Taipans. In the 2021-22 NBL, Machado averaged 10.2 points, 5.4 assists and 3.1 rebounds in 28.1 minutes of playing time. In 2020, the Brazilian helped the Australian team reach the NBL semi-finals and was included in the All-NBL First Team at the end of the season.
The Iona University graduate has 15 games in the NBA, 10 of them in the regular season for the Houston Rockets (2012/13) and Los Angeles Lakers (2018/19) along with LeBron James , 5 more in the play off the NBA in the spring of 2013 with the Golden State Warriors, where his teammates were Stephen Curry, Klay Thompson and Draymond Green .
In 2018, Machado made his debut for the Brazilian national team, for which he played 5 games with averages of 6.6 points, 2.8 assists and 2.8 rebounds in 18.2 minutes on the floor. The last time the newcomer of Avtodor put on the jersey of the national team was this summer in the away game of the 2023 World Cup qualification against Puerto Rico (72:75 ).
In Europe, the point guard played for the French ASVEL, the German EWE Baskets Oldenburg, Rasta Vechta and the Spanish Manresa. In the 2014-15 season, Machado was one of the leaders of the Estonian Kalev Cramo Tallinn, having received the VTB United League MVP award in March and being on the shortlist of 10 contenders for the title of the Most Valuable Player of the championship.
On April 12, 2015, he almost scored a triple-double in Saratov, collecting a line of 22 points, 9 assists and 8 rebounds in 37 minutes of playing time in the road game against Avtodor (66:85).
In his first season at the professional level, the Brazilian was included in the 2021-13 All-NBA Development League Rookies Team. In total, Machado spent 4 seasons and 146 games in the G-League for the farm teams of the NBA clubs Houston Rockets, Golden State Warriors, Utah Jazz and Los Angeles Lakers.
Scott MACHADO , point guard for Avtodor:
"Signing a contract with Avtodor is something special. I remember how I came to play here in 2015 with Kalev, and I remember the amazing audience. I am very glad to be back in Saratov. I will try to help my teammates and the club achieve the best results."