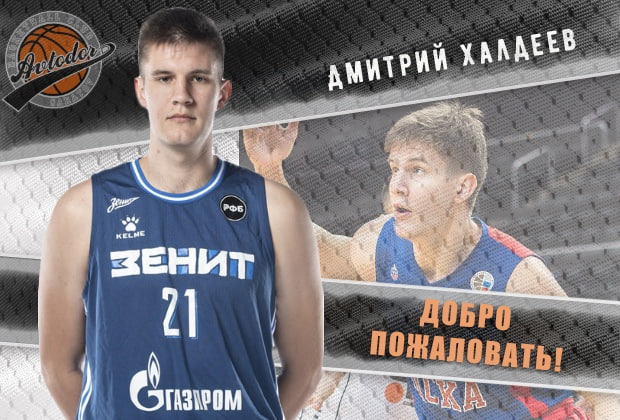 Russian center Dmitriy KHALDEEV (210 cm, 115 kg) joined Avtodor. The MVP of the VTB United Youth League of the 2018/19 season is known for playing for Samara and CSKA-2, and spent the last year in the second team of St. Petersburg Zenit. The 24-year-old has signed an agreement until the end of the 2026/27 season.
In the last Superleague draw, Khaldeev took part in 28 games for Zenit-2, averaging 4.9 points (58.8%) and 3.6 rebounds in 14 minutes on the court.
Dmitry is a graduate of the Novokuibyshev Olympus basketball school. Playing for Samara since 2015, he twice became the winner of the Junior Junior League, as well as the silver and bronze medals of the VTB United Youth League. In the 2016/17 season, Khaldeev entered the symbolic five of the Final Tournament of the Youth League Championship as the best center. In December 2017, he was recognized as the most valuable player of the VTB United Youth League based on the results of the month. In 4 games, Dmitry averaged 23 points, 12.5 rebounds, 1.3 assists, 1.5 blocks, 2 steals and 31.3 efficiency points. At the end of the 2018/19 season, Khaldeev was recognized as the MVP of the VTB United Youth League and included in the symbolic five of the tournament. After playing 36 games, Dmitry averaged 16.1 points, 9 rebounds, 1.4 assists and 19.4 efficiency points per game.
In the summer of 2019, Khaldeev moved to CSKA-2. Khaldeev started the 2020/2021 season already at Samara, but in the fall he left for Uralmash, with whom he became the silver medalist of the Super League. The center spent the 2021/22 season at the Cheboksary Hawks. He played for the youth national team of Russia (under 20).
Vladimir RODIONOV, President of Avtodor:
"At one time, Dmitry was one of the brightest young players in Russia: he was recognized as MVP and the best center of the VTB United Youth League. His talent and physical data have not gone away. We hope that Khaldeev will be able to prove himself in our team."